Latest books by Zeitgeist Creations
Other books under the Zeitgeist Creations print are:
All books are available through Amazon. Following is a brief outline of each book and a specific link to where it can be purchased.
Persons Of Interest
25 lessons learnt from 11 interviews with people living life differently. Think there's more to life than a 9 to 5 job? Ever felt like an outsider? Can't decide whether to follow your dreams or not? Ideal for anyone considering their future, especially high school students. Interviewees include: Comedy icon Tim Ferguson; International Ginger Meggs cartoonist Jason Chatfield; Fastest Australian with MS on a motorbike Chris Morgan; Film director Megan Simpson-Huberman; Man who sold his life on ebay Ian Usher and more. Paperback and Kindle versions. Available on Amazon.com.au and Amazon.com
COVID-19 SERIES 
Covid-10: 20 Lessons About Life and Ourselves (USA edition)
Based on a survey of 120 American residents, this book explores 20 lessons learnt.
How do they differ from what West Australians learnt? Is it different from what you learnt?  Available from Amazon.com.au and Amazon.com
Covid-19: 40 Lessons About Life And Ourselves (WA edition)
Based on a survey of 300+ West Australian this book outlines 40 lessons we've learnt from Covid.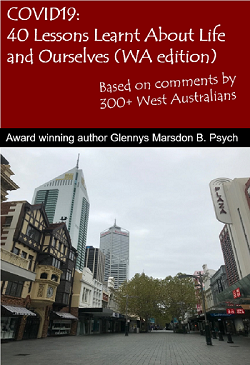 What have you learnt? Are they the same lessons or something different Available from Amazon.com.au and Amazon.com
Covid-19: 60 Lessons About Life And Ourselves (print book)
Based on a survey of 300+ West Australian and 120 American residents, this book presents 60 lessons in print format.
Available from Amazon.com.au and Amazon.com
Covid-19: Life After Covid, 35 Strategies to Maintain
Based on a survey of 300+ West Australian and 120 American residents, this book outlines 35 strategies that should be maintained.
Available from Amazon.com.au and Amazon.com
OTHER TOPICS
30 Tips To Successfully Work From Home
This book is based on 20+ years experience working from home. It covers the benefits, concerns, the home office environment, setting standards, and managing distractions.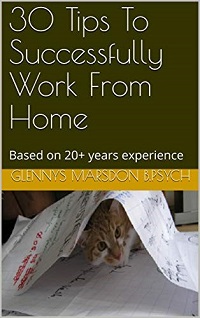 Author Glennys Marsdon B.Psych has worked from home for over two decades and amassed several awards while doings so, proving that you can be just as effective, if not more, while working from home. The trick lies in setting yourself correctly in the first place.
Available on Amazon.com.au and Amazon.com
15 FAQ To Ask Before Writing an E Book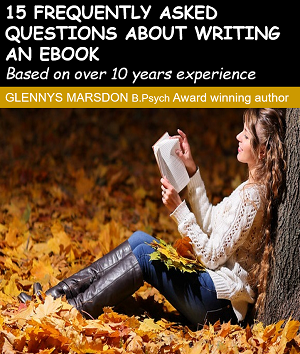 The author published her first eBook in 2010. Since then she's been running talks, workshops and one on one sessions about eBook publishing. This book outlines answers to the top 15 questions she is frequently asked. Some of the topics covered include: e-publishing platforms, how not to get ripped off, pricing, branding, links to key sites and other references. It an easy read, not jargon heavy.
Available on Amazon.com.au and Amazon.com
25 Simple Canned Tuna Recipes
25 simple, delicious recipes using a can of tuna, and 8 tuna can workouts.
Having worked as a freelancer for 20+ years, a large part of my survival was due to the humble can of tuna.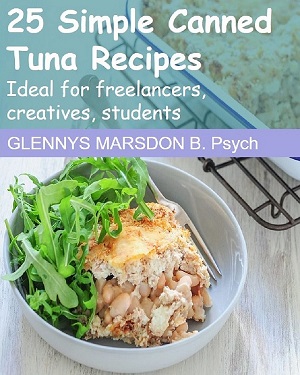 All of the recipes are simple, as my skills are more MasterChef reject than finalist. All come with the flavour enhancing knowledge that you'll be saving money. Several come with weight loss benefits as Glennys once dabbled in the world of body building, where tuna is second only to chicken breasts and whipped egg whites. To this end, also dotted throughout the book are 8 Tuna Workouts, light-hearted ways you can use a can of tuna to stay in shape.  Based on 20+ years experience as a freelance researcher and writer, it is ideal for freelancers, artists, writers, musicians, students. Anyone with limited funds and cooking skills.
Available from Amazon.com.au and Amazon.com
Impact: 45 Tips To Help You Get Involved and Make A Difference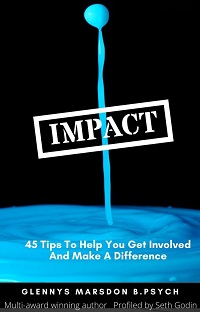 This book if for anyone wanting to make a difference. Anyone who wants to help improve life for themselves, their family or the community. It outlines 45 easy ways to get involved and make a difference.
Available from Amazon.com.au and Amazon.com
Me Time: Over 100 strategies and tricks for gaining guilt-free Me Time
Marsdon takes everyday activities such as going to the bathroom or driving in your car and finds a way to turn them into 'me time'. Start yours by reading more than 100 strategies for gaining guilt-free time just for you.'  Review: by WritingWA in The West Australian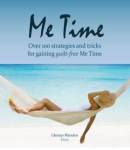 Winner of People's Choice Award for Most Entertaining Paper at the Australian Market Research Society (WA) State Conference 2013
We all want more Me Time, but how do we get it … and how do we enjoy it … guilt free? Australian social researcher Glennys Marsdon, from The Customers' Voice, spent 9 months chatting to Australians about their strategies for gaining Me Time. During the research she uncovered a key barrier to Me Time … guilt. She realised it wasn't enough to just outline some real-life strategies, she needed to explore ways to reduce the guilt. Designed as a gift book Me Time contains 100 real-life strategies and tips, quotes, medical facts, plus photos. Part proceeds go to Health research.
eBook  Me Time, Guilt Free (does not include the photographs in the hard copy.  Available on Amazon.com.au or Amazon.com  Hard copy gift book with photos. Buy direct and save. Contact Glennys for $15 (AUS) + post ($5 for Australia; $10 for International post).
50 Ways To Grieve Your Lover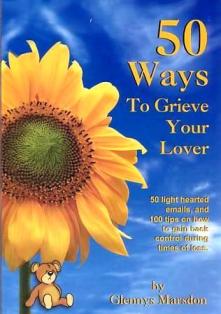 'An amazing array of emotions resulted reading it, happiness, sadness and hope'
'My sincere wish is that you don't ever need a book like this, but if you do, I hope that the lessons I've learnt will help you find new ways to smile again and gain back control.' Glennys Marsdon
The book is written as a series of 50 light-hearted emails to a friend. It contains: 100 Tips; 85 quotes; cartoon images from Michael Collins dec. Glennys wrote the book a few years ago after the sudden passing of her partner Michael, and finding few books about the period after the funeral, and none with any element of humour. She was fortunate enough to have a degree in psychology behind me, however she also spent months devouring any information she could get that would tell me what to expect, and whether she was 'normal' !? A year later a very good friend asked for advice, so she fired off an email titled '10 things I've learnt so far'. After a coffee and several chocolate biscuits the list grew to 50 things, and she felt compelled to write the book.
Copies have also been purchased by: Carers Australian (WA); Solaris Cancer Support; New Zealand Counsellors Association; Grief counsellors in Queensland and the Australian Red Cross Society. Copies were also bought to help survivors of the Victorian Bush Fires (via the Australian Red Cross), and counsellors working on the New Zealand Pike Mine Disaster. As a result of this book Glennys was profiled by Seth Godin in his book based on a world wide search book, True Tales of people Poking The Box And Making A Difference.
eBook available on Amazon.com.au or Amazon.com Hardcopy –  direct from Glennys $19.95 (AUS) + postage.
Freelance Life: An Action Plan to Becoming  A Successful Six Figure Freelancer
Glennys has lived the Freelancer life for two decades and has lost count of the number of people asking her for the secret. This usually happens around tax time or when workplaces are restructuring.
Recently she was asked to run a workshop for people interested in joining this lifestyle and while preparing for it she realised there were twenty questions that'd show whether they were ready or not.
This book outlines those twenty questions. By answering each question readers end up with an Action Plan to start them on their way.
To buy: The book is available on Amazon click here